How to File for Divorce in Wisconsin
Sometimes marriages just don't work out, and that's okay. You're probably wondering what your options are for getting a divorce in Wisconsin. Here's the 3 most common ways on how to file for divorce in Wisconsin.
Options for a Wisconsin Divorce
Hire an attorney ($3,500+)
Attempt to File for Divorce on your own and waste valuable hours at a WI Courthouse.
 Use an Affordable Divorce Service, like Divorce Pro Se Inc.
We can't tell you what divorce option is best for you, but here's what you can expect when you file for divorce in Wisconsin. FAQ: What is a Pro Se Divorce?
Do-it-yourself divorce - Is it worth it?
You could choose to file for divorce yourself. Here's what you need to do to file for divorce in Wisconsin.
Visit the WI Court website, download the forms
 Read hours of instruction and process
Complete the paperwork and hope that it's all correct.
Wait for hours in long lines, again, hope that your paperwork is correct.
Important: Your Divorce could be prolonged and you'll start back at square one if not correct.
Your divorce process with us will take approximately 4 to 5 months to complete.
*Wisconsin State law requires a 4 month waiting period*
Both parties agree to appear in Wisconsin court together on the day of final hearing.
Note: You cannot remarry for 6 months after you are divorced anywhere in the world or your marriage will not be legal.
What if my divorce is mutual? What if it's not?
FILING JOINTLY
FILING JOINTLY means that both parties agree to sign all forms jointly. They agree on all issues concerning property division, maintenance, retirement division, issues concerning the children such as child support, child visitation and child custody. Both parties agree to appear in court together on the day of final hearing.
FILING SEPARATELY
FILING SEPARATELY means that you and your spouse do not agree on one or more issues, such as division of property and retirement accounts, child visitation and child support, etc.
One spouse will be signing all the forms and filing them with the courts.
The other spouse is served by the sheriff's department or a private process server.
(We offer a $45 Process Server!)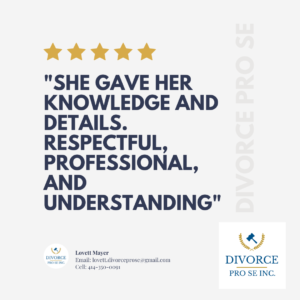 Ready to find out more?
Free Divorce Chat with an Expert in Wisconsin. 414-350-0091
Divorce Pro Se Inc | Legal help for men and women of Wisconsin
414-350-0091
Lovett Mayer - President of Divorce Pro Se Inc
My legal skills and experience has allowed me to make a difference in lives every day. My passion is to help others get free from an unhealthy or abusive relationship, or a relationship that they have outgrown.
I've been dedicated to serving the public in family law for the past 35 years. I am authentic with a deep passion for helping others. I'm here to help you start your journey to a better tomorrow.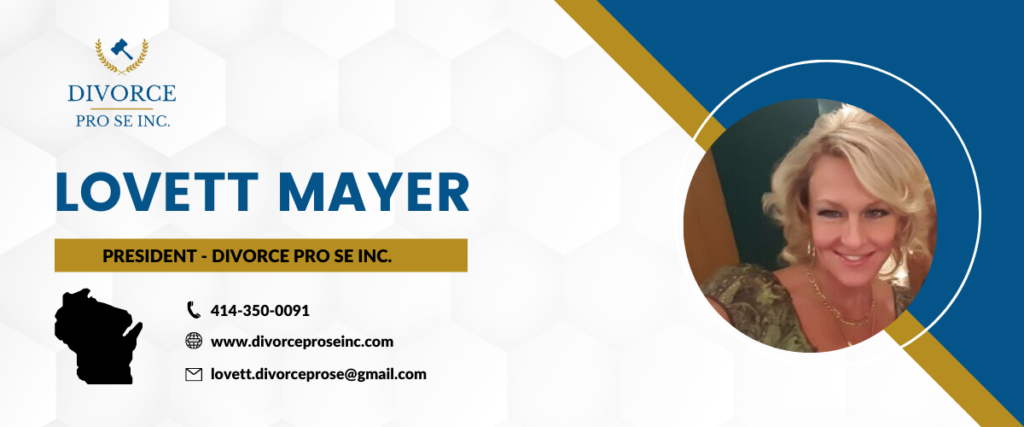 Affordable divorce service - called  'pro se divorce'
You can save thousands on your Wisconsin Divorce by contacting the trusted professionals at Divorce Pro Se Inc.
Skilled professionals with over 50 years of experience can help you complete your Wisconsin Divorce.
Legal instruction and guidance
E-File Divorce Option (No waiting in line!)
Unlimited Phone Calls and Emails
What does Divorce Pro Se Inc help with in a Divorce?
Child Support
Child Custody
Division of Assets
Alimony and Family Support
Contempt (Non-compliant Spouse)
Modify an existing divorce
Commonly Asked Divorce Questions